JANE NJERI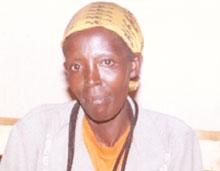 Professors in relevant youth Ministries Dean Borgman & Kent McDonald believe that never ask a person, "How can I help you?" That kind of help encourages their dependency and can lead to our own victimization. But instead ask a person, "How can we help you help yourself to get there?" And in our work in Mitumba slum this type of question has enabled us to succeed to some extent. For example, when dealing with people who have already lost hope for life, it may be hard but it can also be easy if you develop the person to answer the above question.
Like in the case of Jane Njeri who is living with HIV/AIDS in Mitumba slums have found the secret of how to earn a living. She is able to make nice baskets (chiodo) as shown in the picture. This work is able to help her earn her living despite the condition in which she is in.
Jane Njeri has 5 children in total. Her husband abandoned her when he had known that they have attracted HIV/ AIDS. In a state of hopelessness Jane was pregnant and at the same time had HIV/ AIDS. That same time when she needed much encouragement, the husband abandoned her with all the children. Jane had no income at all that time. You can imagine the state in which this poor lady was in.
Jane decided to take all her kids to her own mother except the newly born baby. The encouraging thing was that Jane got saved and decided to put her situation to the almighty God. When we met Jane in Mitumba slum we had to encourage her to use her talent wisely. She got the advice positively and now Jane is able to make the baskets, necklaces e.t.c. and after we had sold it for her she could get food and pay her house rent without much difficulties. We have Jane's two children admitted into REM school where they do have porridge and a meal six days a week. Jane now is very cheerful, though sickly, she is living positively and also thanking God for the REM team in Mitumba slums.