LIVINGSTONE MULIKU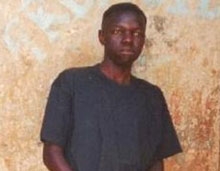 My name is Livingstone Muliku, aged 26 years and married to Pharice with a two and half (21/2) year old son, Pharrel. I was brought up in Kibera slums where I lived throughout my primary, high school and college life. Throughout my education, I was sponsored by a local NGO. It is through this ministry that I got to meet Rev. Shadrack Ogembo and his wife Violet, who were sponsorship coordinator and spiritual leader respectively. As I grew up, I came to know Rev. Shadrack as a man with drive and passion to mould, motivate and enlighten a young person into a mature person with hope, vision and focus. This I have personally experienced. I appreciate the fact that God has granted him a soft spot in his heart with vision for every child under his care to bring him/ her to Christ Jesus.
I grew up attending Christian youth camps at least twice a year since 1994 which was being organized by the couple.
I currently work in a Nairobi restaurant as a waiter but I must admit that growing up in the slums has taught me a lot about life. Mostly I thank God for the Ogembo's and considers them as God send and timely in my life. This is because they gave me green light in life and a Christian foundation that has given me help to make wise decisions. I pray for more such people and may God bless them in their efforts to bring children and youth to Christ so that they can see the meaning of their lives and appreciate it.